Truthful Wishing about Oregon
If I had a time machine,
I would become a fry cook so I could seduce Richard Brautigan's mother. 
I would once leave her a motel room
and take Richard with me on mysterious errands. 
I would feed him on Belgian waffles, French toast, and Swedish pancakes
until he grew plump and happy. 
I would have to wipe lingonberry jam off his face but I wouldn't spank him for it.
I would, after the woman had left for good, when I couldn't look after him,
let machines of loving grace supervise, just until I returned. 
I would never take long, despite my abiding faith in gentle altruistic technology.
I might drink a little less. 
Then again, it only makes me sleepy. 
Then again, I would want to set a good example.
I would attend all his basketball games.
I would applaud his gumption. 
Write!  Perform!  Distribute!  Publish – oh, god, son,
that's pretty much out of your hands, but get it out there,
keep bugging them!
I would read his poems, give constructive criticism, start his novels,
and lie about finishing them. 
I could have finished them!  If only I still had…
As I lay on my deathbed, I'd regret ever having sold the time machine
for rudimentary computer parts.  But I wanted to invent the Internet. 
I bit off too much!  Hubris!
If I had the money, if I'd left the grill again for the classroom,
I would underwrite his trip to Tokyo, encourage his enrollment in Otani. 
Suzuki Daisetsu!  Can you imagine? 
Richard was beaming when we saw him at Christmas.
I would hide the bullets.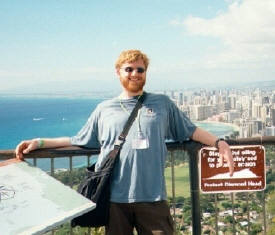 Raised in the Detroit area, John F. Buckley has lived in California since 1992.  He teaches English at Orange Coast College and does some writing and editing on the side.  Please get on his bandwagon now, while he's meek and humble, before success rots his character and he explodes in a maelstrom of pie-hurling and self-aggrandizement.