Jane Cassady

But here it is.

As we walk the summer camp
kindergarten through third grade
down the street to Pleasant Playground
for their weekly swim,
the kids are in their two quiet lines,
listening for traffic and blue jays.

The shutters are open, even though it's only been a week.
"Poor Mr. Kim," says the first little girl in line.
"It's too soon but they need the money."
"R.I.P Miss Kim" is scrawled across the yellow stucco
with vague allusions to heaven,
something I don't quite believe about blessings.

I wonder about the stuffed animals
used for shooting memorials,
if people win them at the shore,
then save them for the inevitable.

Two kindergarteners straggle out of line
to inspect the oversized Stewie doll
tied to the stop sign and also covered with signatures.
Bring Sharpies to everything.
Accumulate your plush winnings against the next tragedy.
Turn your face to something soft,
then add it to the pile.

By the time we get to the turnoff for the swimming pool
(next to the auto repair lot with its greasy puddles)
the kids at the end of the line are starting to straggle.
I tell them, "Stay together. If you don't stay near us,
we can't protect you from anything."
But I know that whatever bitch-goddess protectiveness
I can dredge up or summon from my grubby soul,
I can't protect them from anything.
I'm less permanent than memorial Sharpie,
as short-term as droplets in splashes.
There are so many different kinds of splashes,
and we'll get to them, but first we have to line up at the edge of the pool
and repeat after the lifeguard:
"No horseplay." (No horseplay.)
"No playing on the ladder." (No playing on the ladder.)
"No blocking the ladder." (No blocking the ladder.)
"No diving." (No diving.)
"No running." (No running.)
"No running." (No running.)
"No running." (No running.)
______________________________________________________________________________________________________________________
---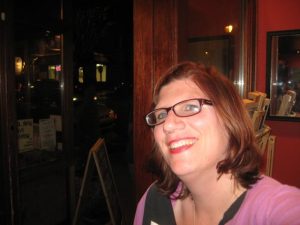 Jane Cassady writes pop-culture horoscopes for The Legendary, Apiary and Critical Mass. Her poem, "In 1992, Almost Immediately, It Got Better" can be heard on Indiefeed:Performance Poetry. She writes a blog about happiness, love and pop-culture called The Serotonin Factory. She is the Slam Mistress of the Philadelphia Poetry Slam. Her poems have appeared in decomP, The Ballard Street Poetry Journal, Lavender Review, and other journals. She's performed at such venues as LouderArts in New York City, Valley Contemporary Poets in Los Angeles, and The Encyclopedia Show in Chicago.