You will soon cleave away
from your night like a fish,
in the direction of your father
who has eaten from grief,
who leapt inside his fish.
And you forget your mother blue
who feels in her kitchen,
who prays for you.
While you collect dust like an old
figurine;
your heart aching.
Author Bio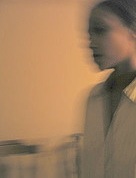 Magdalawit Makonnen is an Ethiopian-born writer residing in Los Angeles, CA. She received her English/Creative Writing BA from UCLA, and currently is working toward her Creative Writing MFA at Antioch University Los Angeles. Her pieces have appeared in
Pyrta
(India),
African Writing Magazine
(UK),
The View From Here
(UK),
MiPOesias, Volt,
and other publications.