Approaching the Tappan Zee Bridge
I see a green highway sign reading
"Life is Worth Living" with a phone
number below. I ask my husband,
"Do you think a lot of people jump
off the bridge attempting suicide?"
At first he says, "Probably,"
which leads to, "I don't know; it's
not that high above the Hudson is it?"
Maybe they jump from the peak,
I think, where the New York City
skyline comes into view, a gray
silhouette of stone concrete and
steel revealing itself now, as we
come up, over and down. I think
of Thomas Eakins.
His painting of beautiful naked men
lounging cliffside, diving into water,
swimming with dogs, appearing
so comfortable with their bodies
and each other. Sometimes I think
I'd like to be that kind of man
who jumps without fear into
shallow waters.
Author Bio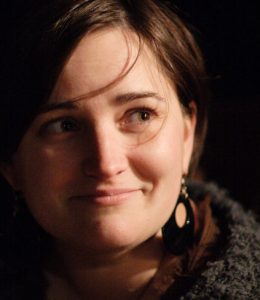 Heather J. Macpherson is a poet and librarian. Her work has appeared in Blueline, OVS, Wicked Alice, Pearl, Spillway and other fine publications. She has poems forthcoming in CLARE Literary Magazine, Weave, and The Broken Plate.