When you were ten you caught a fish
and showed your parents that pink flesh.
They whooped loud, mercury eyes! Silver guts!
That day all guzzled more than enough.
and that night, you grasped a new way to sit
that made the family round and perfect.
All your thoughts from that day on
were mother, cod, father, sturgeon.
You live alone now and don't eat meat,
you captain a dingy, so that you can greet
the others and judge their hefty catch.
A family can't feed off one single perch.
There needs to be a freezer full of carcasses
or else no more breath, no more kisses.
Now take those hooks from your tender flesh, see:
You can't save what you do not release.
Judith Pulman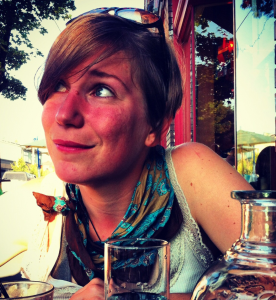 Judith Pulman has had poems published in
Ezra Journal,
VoiceCatcher Magazine,
and 
Night Bomb Press
. She completed her MFA through the Rainier Writers Workshop in 2012. In addition to poems, she writes short stories and translates Russian Poetry. You can view her other work and projects at www.judithpulman.com.