She was surprised when I told her
I'd been to Europe
"Why'd you get so excited about
going there?" she said
I told her
I wanted to be somewhere
Where I didn't feel American
She claimed she listened to
Hip hop
But long skirts told me
She belonged to god
She screwed up her face
When I said money and spirits
Weren't my gods
It's been three weeks since I've
Seen her at the coffeehouse
I shouldn't have told her
I had a B.A.
I think she would've liked me
If I were more street
Erren Geraud Kelly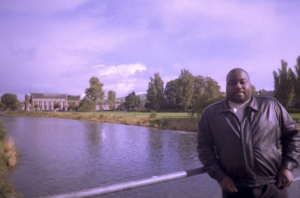 Erren Geraud Kelly's work has appeared in over 80 publications in print and online in various periodicals such as
Hiram Poetry Journal, Poetry Magazine
( Online )
Riprap Journal, Convergence, Free Expression, Ray's Road Review, The Write Place At the Right Time, Vox Poetica
, and other places.   Mr. Kelly is the author of the chapboook, "Disturbing The Peace," on
Night Ballet Press
.   Mr. Kelly lives in Chicago.