Once a year I pick up my dead dad from the cemetery. The cars with tinted windows move slowly looking for their dead loved ones. I am nervous to see my dad. I miss him. I even coughed excessively over the phone for my boss to give me time off. I also paid two ladies to clean the apartment, bought an extra towel, a new set of sheets for the bed, and filled the refrigerator with all kinds of things from the supermarket, including bananas, green apples, cream cheese, Greek yogurt, 100% wholegrain bread, and a Pinot Grigio I know he likes. The relationship with my dad is so much better now that he is dead.
Between the slow parade of cars and the pile of dead people waiting, it's hard to spot the one I'm looking for. But my dad has always found a way to distinguish himself from others, like a grey cloud in the sky. I don't mind driving around the cemetery over and over to find him. Five laps later, I see his dead tired dusty body still solid like a wooden armoire of multiple drawers. I can smell his salty stories from the inside of my car, the stories that have made me want to be like my dad when I die. When I stop, he says, "Open the trunk," and he puts his duffel bag inside. We don't hug. We move fast and get into the car. "Hello, son," he says with a smile in his eyes.
The next morning, I wake up to the smell of breakfast. My dad has cleaned up nicely – his black hair still wet from the shower. There is coffee on the table and I have a sip. The toast is completely burned but my dad scrapes that part into the sink. Black flecks dot the white porcelain. We eat toast with cream cheese on top.
He talks to me about meditation. He has been doing it since the 90s. Dead people consider him some kind of guru. He has created a technique he calls "The Thirty Fingers Meditation," where they have to count on their fingers up to thirty and that relaxes them. Being dead must be stressful.
He asks about the English top hat he had bought on a trip to Europe many years ago. It is made of a lightweight Toyo Straw so it feels as if the hat is actually floating on your head. I never use it because I look pretty silly in it, but my dad wears it like an English theatre actor.
I drive him around the city. During the ride, he rests his left arm on the armrest between us. I realize how important that armrest is to me, since I am always alone in the car, and I use it all the time. But I don't argue. "He needs space," I think, "coffins are small."
We end up in Chinatown. I have never been there even after years living in the city. My dad looks at kimonos for his wife. There are midnight blue, scarlet red, yellow, and greens with floral fans and mountain sunset patterns, but he finds them too expensive. I completely forgot my dad had remarried during his lifetime and I wonder if his new wife is buried in the same cemetery. My mother was buried next to him, but he said that one night they were fighting, and she left and moved to a different city, to a family mausoleum her parents bought for all their five children. That explains why I haven't heard from her in so long.
On the way back, my dad insists on stopping by a brick building with a lemon tree in front. There is a woman and her little girl plucking lemons from the tree. My dad and I hurry up and shake the tree and five big lemons fall off. The mother and child say nothing. He promises to cook salmon with lemon for dinner. I know there is something extraordinary about eating my dad's food; it just tastes different, and it is not about the ingredients. When I was a kid, he would bring me café con leche to bed, and it tasted sweet and loving. He is my dad and mom all together. He asks me to leave the kitchen so he can cook his masterpiece in peace. Dinner is delicious, and each lemon tastes like real lemons.
My dad asks me the usual questions:
What about women?
What about them?
Is there someone in your life?
There is no one for now.
Don't be a loner like me. It is not good for you.
My dad wants grandchildren. He wants the family name to continue. Then I say something my dad doesn't understand: "Did you know that millionaires are paying to travel to space and see planet Earth from afar? Well, one day, these rich people will pay to give birth to their babies in the middle of space, and those babies will be called universal." My dad looks at me without batting an eye and says nothing. "It will be the end of nations… and we will all be considered the same. Do you understand?" No matter how many times we try, my dad and I will always be strangers.
After brushing our teeth, my dad reveals that he has been cheating on his latest wife. Some women that heard his dharma talks, felt profound admiration for him, and looked at him like a wise man. A few had shown up at his grave in the middle of the night with no panties on. They make him feel manly. Although my dad is having affairs, he asserts that he truly loves his current wife.
While I try to fall asleep I think how afraid I am to be like my dad when I die. It is my mantra for the night.
The next sunny morning, I drive my dad to the cemetery. It is not a surprise to see other cars driving in, too. I park at the gate, in the shadow of a giant oak, and take his bag out of the trunk. We hug and soon enough I am back in the car, driving slowly away and watching my dad in the rearview mirror walking into the cemetery and getting lost within the ocean of dead.
Back home, washing dishes and the coffee carafe, I notice the sink is clogged. There is thick black water and burnt toast crumbs rising up and covering my hands. I close my eyes to the sound of water droplets colliding and collapsing into each other.
David Muchnik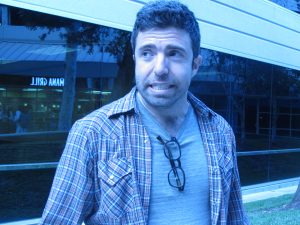 David is currently a BA student at Antioch University Los Angeles. In his spare time, he sews miniature doilies for the sofas in his dollhouse and talks to strangers at airports.