Make sure to rope yourself to such posts as the smells
of jasmine and rain in the evening, or the sound
of blackbirds plucking worms before the dark swells over.
Ease into the rush. Lift one limb at a time.
Practice opening one eye, then two – one nostril,
then both. Wiggle your toes, loose your legs.
Don't thrust yourself eagerly into the unmeasured leap.
Prepare yourself for the glare of the other side,
for the encounters. To some you will be a stranger,
and you can't tell anyone where you've been.
Cory Caplinger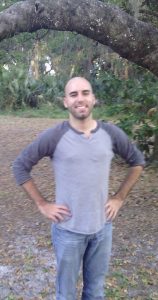 Cory Caplinger is a graduate of Rollins College in Winter Park, Florida. He holds a B.A. Degree in Music Composition with a minor in English and Creative Writing. Cory has worked as a writing intern for the Winter with the Writers Literary Festival and as a Managing Editor for
SPECS
Literary Journal.