This was a night sheathed in
a beckoning darkness:
a starless sky and summer breeze,
designed to envelop a traveling
ingénue.
Clothes packed and unpacked
again in tattered suitcases—
with an absent moon there
could be no solace;
although silhouettes had been
tucked away between all lost stars—
her lover's touch was still felt
along gaunt shoulders.
The door she should have slammed
instead was shut with a haunting
solitude, and in the outdoors
palm trees swayed
along to the beat of this
young woman's heart.
As footsteps trudged through
wisps of fog to their new destination,
a crevice of moon emerged to
offer its redemption:
this would be her renaissance.
Nadya Rousseau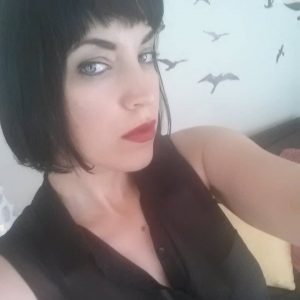 Having worked in entertainment, business, writing, and marketing, Nadya is the ultimate hyphenate. Seven years ago she picked up her bags and moved to Los Angeles from a small town in Maryland for an acting/modeling contract. Since arriving in L.A., she has appeared in film and television and has written for Examiner, as their LA Vegetarian Examiner. Nadya has also had poetry published in two different anthologies:
In My Lifetime: Wonders
and
The Best Poets of 2013: Volume 2
. Nadya has a doppelganger by a less exotic name named Amy Ballard who attends Antioch University and interns as an editor for Two Hawks Quarterly.