I can't write today.  Your pain is my pain.  My neck feels soft.  You wash the dishes—you get hard easily.  Leaves everywhere.  Andrea moves through the house.  I let her.  The Salvadorian Revolution was extreme, a laboratory of the Cold War.  I bite my lips.  I wash the dishes.  Impatient you—you sleep in the back room.  My brother never calls.  I know poverty can be scary, too many people in this city.  They send weapons to Central America.  Racist country, we know this.  I can't write today, or listen.  The leaves outside are telling me something.
Marcela Urrutia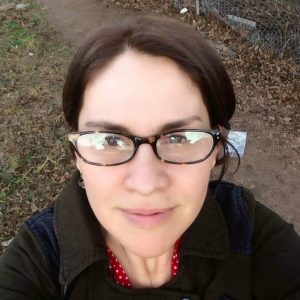 Born in Chile and raised in Venezuela Marcela Urrutia and her family returned to Chile at the end of the 80's after being 11 years in exile. In Chile, she made her studies in Dramatic Arts where two times she was awarded a Cultural Fellowship from the Chilean Government for the production of the first theater festival of young Chilean theater directors.
Currently, she lives in Southern California were she expend her time studying at Antioch University Los Angeles, raising her kids Gala and Max, gathering interviews of Latino America immigrant women and writing.