Did you ever stop to think
some crosswalk buttons
you push each day
are connected to nothing?
You push and wait
longer than seems right,
musing maybe the universe
is teaching you patience.
Then one day you experiment
by not using the button
and discover time between signals
is almost the same.
This makes you question
if they were designed by social engineers
instead of electrical engineers,
if 40 years of your hard labor
in savings and pension
will disappear from banks
the instant symbol-makers decide.
Scott T. Starbuck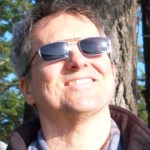 Scott T. Starbuck was a 2014 Friends of William Stafford Scholar at the "Speak Truth to Power" Fellowship of Reconciliation Seabeck Conference, and a 2013 Artsmith Fellow on Orcas Island. His eco-poetry blog "Trees, Fish, and Dreams" is at
www.riverseek.blogspot.com
, and his "Manifesto from Poet on a Dying Planet" is at
splitrockreview.org/news