Two-and-a-half decades too late
for 1977's glorious outbursts;
do you remember how the opening guitar riffs
of the Clash's "I Fought the Law"
sent audio-orgasms into our ear canals?
We were black leather-clad, bandolier-adorned,
plaid skirt-wearing, combat boot-fitted
seventeen-year-old misfits
huddled over a set of tinny Sony headphones
in a backwoods high school's
cramped girls' bathroom,
and we swooned over Joe Strummer's London callings
which beckoned us to dream
of some dark alley dive
where our black-on-white anarchy patches,
"God Save the Queen" scrawled wristbands
stabbed with silver studs and bent safety pins
weren't conspicuous; some clove cigarette-choked
hole where our fish-netted
virgin bodies meshed, mashed, sweated,
moshed to "Rock the Casbah" and "Train in Vain."
The closest we ever came to CBGB's
or London's black leather, mohawked hovels
were my bedroom's confines,
where after school, we hooked lengthy amplifier chords
to cheap Yamaha six-strings and tiny, tinny speakers
and we strummed maniacal three chord
teenage wasteland hymns
until our fingers cried blood
and our Bettie Page bangs
clung to our sweaty foreheads.
Nicky Yurcaba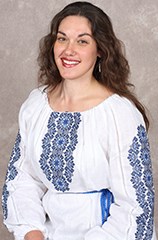 Nicole Yurcaba, English faculty at EWVCTC, has a love of words that has propelled her into
VoxPoetica, The Atlanta Review, The Dead Mule School of Southern Literature, Philomathean, Bluestone Review, Floyd County Moonshine,
etc. Yurcaba published her first poetry,
Backwoods and Back Words
, available on Amazon.