CXXVI.
Red cabbage and bronze lilies. In my dream a woman says, I am a radio violinist. I imagine that continents communicate by music, the way dolphins do. Is it thunder or is it coal in the cars on the tracks below, sliding over the gravel beds stubborn as black pearl, baroque? Precious as pepper I would be, not simply salt. Rich as the dark earth in the conservatory, the plants booming, I don't know what Jeremy feeds them. Can't sleep. Get up at midnight to drink grappa with rue, touch up the petals of the purple-blue water lilies. Golden glow on the water there, unearthly. I preserve them in my paintings as if in amber.
CXXVII.
The day before Christmas, ten degrees outside, I need milk. On the bus, people who clearly don't have bus fare digging in their pockets for change. In Pilsen, a man selling atole and tamales from a cart outside the supermarket, pinwheel crisps. I wait for the bus back and a Mexican woman offers me a ride, but she's not going as far west. I am touched: this is why I want to live in Pilsen. But the bank drags, won't give me an answer on my loan application. Apple-green background for the oriental lilies I've sketched, I use the yellow to paint warm water in which puffball golden fish swim. A little trickle, treacle. I have everything I could want, milk and lemons and a cucumber and a ham given me for Christmas. I am in love with a man who lives in Seville. Candle glowing like a lotus when I have my evening Maker's Mark. I dream the moonfish swims upside down.
Inara Cedrins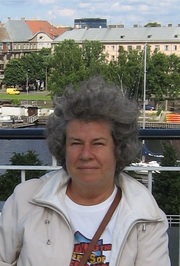 Inara Cedrins passed away after submitting these poems to us, and we publish them thanks to the generosity of her son. An award-winning artist, teacher, and writer, Inara Cedrins traveled the world, learning how to paint in China and teaching creative writing in Latvia. While several of Cedrins' own books of poetry are available on
Amazon
, she also worked as a translator, publishing the anthologized works of several Latvian, Lithuanian, and Estonian poets. An acknowledged talent, Inara's poetry was featured in several esteemed publications, including
Lumina, Spillway, Askew, Ellipsis
,
Hayden's Ferry Review
, and the
New Mexico Poetry Review
.