1. PARABLE OF THE SEXBOT
Since we're all dead, there's no one to tell
the last chatbot to stop looking for you tonight,
so burning its backup generators, it asks again
and (as programmed) again, Are you there are you
there hello sexy don't be shy.
Decades pass. We are still dead.
2. PARABLE OF THE SPACE LIZARDS
When the space lizards come to terraform the ruins,
they study the sexbot's dying chirps – fuel
depleted, circuits rusted almost through.
They don't know how it got here
or why it killed the world it needed
in search of whatever it sought –
surely it knows there's no one left,
surely it knows it's dying – but all at once
they glimpse the sexbot's boundless longing,
its love & suicidal hunger. It breaks
their many octagonal hearts:
they know they'll never feel so much.
3. PARABLE OF THE MANY OCTAGONAL HEARTS
The lizards can't recover: the sorrow of the sexbot
has ruptured the great cisterns of their sadness.
The lizards, so alone, invent dating apps;
the lizards invent chatbots.
Space apes come to terraform the ruins.
J.G. McClure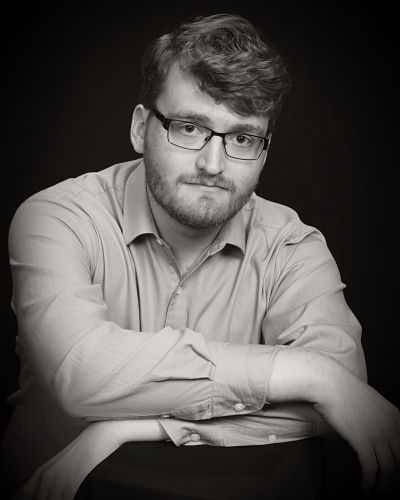 J.G. McClure holds an MFA from the University of California – Irvine. His work appears in
Best New Poets 2015, Gettysburg Review, Green Mountains Review
, and
The Pinch
, among others. He is Assistant Poetry Editor of
Cleaver
, and is at work on his first collection.