The water is bottle green,
clear as the Caribbean.
We can see the boulder-strewn bottom
fifteen feet down.
I paddle the canoe
into position offshore
in front of a red maple
that hangs into the water
a cool shadow
for the bass to lurk in.
An old fallen tree
is splayed across the lake bottom
right at the dropoff
where the water plunges
from two to ten feet.
A bassy looking spot.
I cast my plastic salamander
beneath the branches of the maple
where a few leaves
are already turning red.
A fish nails it
on the first throw
and I reel in
a feisty smallmouth
his sage-colored scales
flashing in the sunlight
as he tries to dive under the canoe.
I land him and toss him back,
continue to cast.
A few throws later
in the same spot
I bring in a slightly bigger largemouth.
I joke with my sister
about trying for a hat trick
from that honey hole
and then hook a third bass
from the same spot,
but halfway to the canoe
he leaps clear of the water
and spits the hook.
My sister, who's been throwing a plastic worm,
swaps it for a plastic salamander
and soon lands her first fish of the day.
I take a photo of her
holding the bass and smiling,
at the same time thinking
what it will not capture:
the far off cry of that loon,
the canoe's gentle rocking
in the warm breeze,
the sharp smell of fish
on my hands
as I press the shutter.
Brett Peruzzi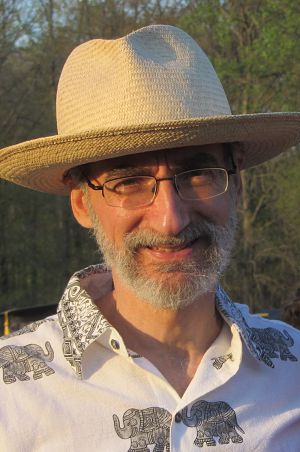 Brett Peruzzi lives in Framingham, Massachusetts. His poems have appeared in
Boston Poetry Magazine
,
Muse Apprentice Guild
,
Gloom Cupboard
,
The 5-2: Crime Poetry Weekly
,
Modern Haiku
,
Sahara
,
Pine Island Journal of New England Poetry
, and many other publications.