I
This morning wrapped around my ankles
the way sunlight bleached your shins
in that 1935 photo.
In a white and black polka dot dress
that flows below your knees,
you lean against a Chevrolet Standard,
your left shoe glued to the car's running board,
right leg stilt straight.
The sun's light defines the curves of your body.
Turned toward the camera, the angle of your face.
Who's that photographer?
Probably Grandpa, or maybe Grandpa's rival,
or maybe even Grandpa's ex-girlfriend,
your best friend. Your face is still as stone.
I covet the waviness of your hair,
the pin-up pose of you,
crisp as creased pants.
II
In the other photo, you lounge
in white gabardine slacks and a red silk blouse
with a tie neck you loop into a bow,
your feet snug in white patent leather shoes.
A fedora's slanted on your head –
Grandpa's hat. Your gaze so blinding
the cameraman must have blinked before his finger
pressed the shutter release.
In the corner of this photo, a boy sits on the grass –
legs crossed. His face, bare
as terracotta floor tiles, chin tilted upward.
His irises – two Jupiters spiraling off their axes –
strain toward you.
Grace Ocasio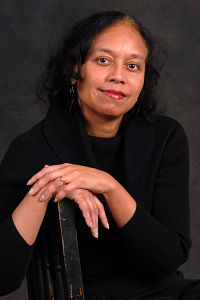 Grace C. Ocasio placed as a finalist in the 2016 Aesthetica Creative Writing Award in Poetry. Her first full-length poetry collection,
The Speed of Our Lives
, was published by BlazeVOX Books in 2014. Her poetry chapbook, Hollerin from This Shack, was published by Ahadada Books in 2009.