The Devil licks its fingers clean from the breaking of hearts.
Fingers wiped on the walls of a karaoke bar.
The bar top is wet, but not from what you think.
She looked me up and down.
Her hair was black like a nest of shadows, all tangled together.
She picked up my beer by its neck and finished it.
The gore in my legs twisted.
I stared into her eyes – black as a dying star.
We left together.
The Devil sang Total Eclipse of the Heart in the background.
The floor was slippery, but not from what you think.
James Blevins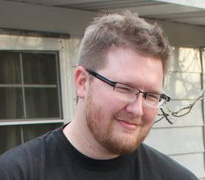 James Blevins is currently attending the College of Central Florida in Lecanto, Florida, studying English and Creative Writing. His first published short story,
For All the Bending
, was included in the 2016 Scythe Prize collection, available on Amazon. His poetry has been published in
Alexandria Quarterly, Fine Flu Journal, Literary Juice, AZURE, THAT Literary Review
, and
The Courtship of Winds
.