Nigel regrets his rap days.
I make mixes of emo songs I loved
ten years ago.
In Texas, he's divorced
and I'm dying.
Back home there's him
in a track suit performing
in Kim Shorey's basement.
And then there's me loving it.
I'm Rob Base and I came to get down…
This is what adults do
drink too much
stay up too late
steep in nostalgia.
But what if we could operate
in some other space?
Between the gray area
where people still send letters
and steal bowling balls.
Once, we tried
to set a grocery store lobster free.
He hid it
in his trench coat.
We left it for someone
who owned a saltwater tank.
In the morning,
the guy called and asked,
did you leave a
dead lobster in my car?

What if we are the place
where good intentions go awry?
Bree A. Rolfe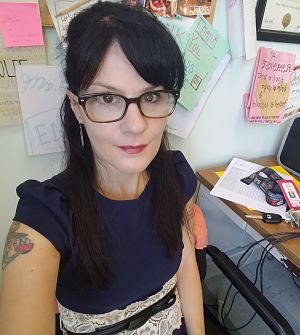 Bree A. Rolfe lives in Austin, TX, where she teaches writing and literature to the mostly reluctant but always lovable, teenagers at James Bowie High School. Originally from Boston, MA, she worked as a music journalist for ten years before deciding she wanted to dedicate her life to teaching and writing. Her work has appeared in Saul Williams' poetry anthology,
Chorus: A Literary Mixtape
,the Barefoot Muse anthology,
Forgetting Home: Poems About Alzheimer's
, and the Redpaint Hill anthology,
Mother is a Verb
. She holds an MFA from the Writing Seminars at Bennington College.